Coming Together: The Abraham Mordecai Jug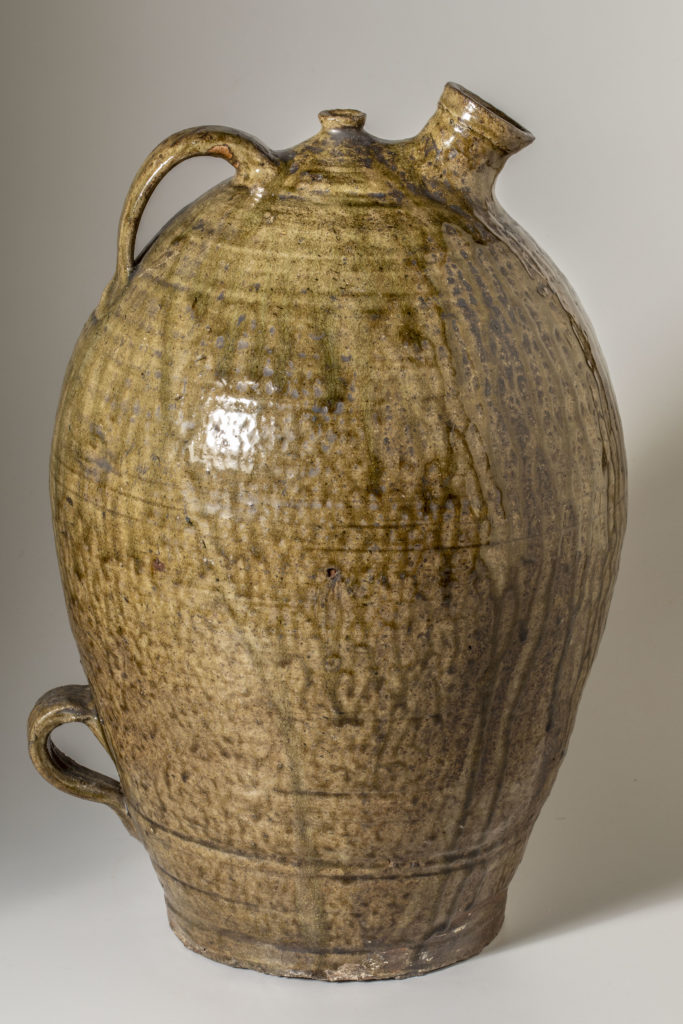 "He (Mordecai) lived entirely alone… several old trunks, two or three chairs and table, together with bottles suspended by strings around the walls, completed the entire furniture of the cabin."
In 1847, Col Albert J. Pickett travelled to Dudleyville, Tallapoosa County, Alabama to gather stories from older residents for his History of Alabama. Abraham (or Abram) Mordecai (1755-1849) was an excellent source: he was well into his 90s, and had a lifetime of experience in the region, largely living alongside and with the Muscogee (Creek) Nation. This stoneware jug was purportedly tucked among the bottles in his cabin.
Mordecai was born into the Jewish community of Philadelphia in 1755. After flighting in the American Revolution he moved to the Muscogee town of Econochaca near the site of present-day Montgomery, Alabama. He married a Muscogee woman and raised a family (his wife's name is no longer known). Mordecai facilitated diplomatic communication and carried out trade with the Indigenous peoples of the region.
In 1804, Abraham Mordecai established the first cotton gin in Alabama at the confluence of the Tallapoosa and Coosa Rivers. Indigenous women brought their crops to the facility by canoe, and Mordecai sold the processed cotton in New Orleans. This site, while convenient, was also on the border between territories claimed by the Muscogee and the United States. Threatened by the proximity of this operation, in late 1804 warriors from the Muscogee Confederacy beat Mordecai and cut off his ear before burning the buildings, boats, and cotton. Despite the loss of his ear and livelihood, Mordecai and his family only briefly left Alabama.
In 1832, the Muscogee were coerced to cede via treaty all their territory east of the Mississippi, including Alabama. They were forced to remove to reservation land in Oklahoma. Among these displaced people were Mordecai's children.
7-gallon jug
1830-1840
Attributed to shop of Robert Ussery or sons, possibly an enslaved potter
Bacon Level, Randolph County, Alabama
Stoneware with ash-based alkaline glaze
Montgomery County Historical Society