Faculty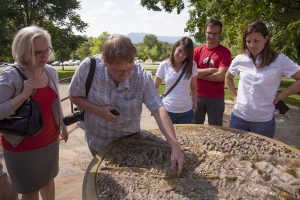 The MESDA Summer Institute is led by visiting scholar Dr. Carroll Van West and MESDA Curator Daniel Ackermann.  Dr. West is Professor of History and Director of the Center for Historic Preservation at Middle Tennessee State University and is Tennessee's State Historian.
During the Institute students will also work with distinguished outside scholars and curators, including Dr. Jennifer Van Horn, Assistant Professor of Art History and History at the University of Delaware and Dale Couch, Curator of Decorative Arts and Director of the Henry D. Green Center for the Study of the Decorative Arts at the Georgia Museum of Art.
Students will work closely with the staff of Old Salem Museums & Gardens and the Museum of Early Southern Decorative Arts including Robert Leath, Chief Curator; Gary Albert, MESDA Editorial Director and Adjunct Curator of Silver; Johanna Brown, Curator of Moravian Decorative Arts; Martha Hartley, Director of Moravian Research; June Lucas, Director of MESDA Research; and Frank Vagnone, President and CEO of Old Salem Museums & Gardens and author of The Anarchist Guide to Historic House Museums.