About the MESDA Summer Institute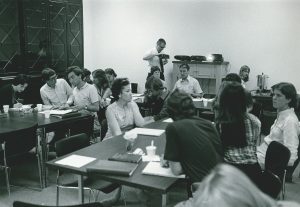 Since 1976 the MESDA Summer Institute has trained students, scholars, and museum professionals in the study of Southern material culture.  Through its unique combination of hands-on object exploration, primary source research, and intensive fieldwork, the Institute has shaped American material culture scholarship in a profound way.
Many MESDA Summer Institute projects have gone on to become important articles, books, and exhibitions.  Publications by Summer Institute Alumni include Ron Hurst ('78) and Jonathan Prown's Southern Furniture 1680-1830: The Colonial Williamsburg Collection; Maurie McInnis's ('92) The Politics of Taste in Antebellum Charleston; Louis P. Nelson's ('96) The Beauty of Holiness: Anglicanism and Architecture in Colonial South Carolina; Jennifer Van Horn's ('04) The Power of Objects in Eighteenth Century British America;and Betsy White's ('04) Backcountry Makers: An Artisan History of Southwest Virginia and East Tennessee.
Alumni Profiles
Jerome Bias ('09, '10, '11)
Furniture Maker and Scholar"Over the course of the Summer Institute I was privileged to become immersed in MESDA's unique research holdings and its amazing collection of Southern decorative arts.  The experience taught me to study not only an object's maker and owner, but also the non-family members in the household and their relationship with that piece.  Because of the Summer Institute's emphasis on asking questions of relevance, I now know how to weave a narrative that can entertain the most jaded of museum visitors, even seventh graders trying their best to look bored!"
Amber Clawson Albert ('12)
Director
Historical Association of Catawba County"Time with  the the MESDA staff, scholar-in-rsidence, and my classmates provided a new dimension to my understanding of the role material objects played in the lives of people of the past, well beyond my previous graduate studies in historic preservation.  In fact, my MESDA Summer Institute research project inspired my dissertation and led to the discovery of a previously unknown East Tennessee cabinetmaker."
Ronald L. Hurst ('78)
Vice President for Collections, Conservation, and Museums
Carlisle H. Humelsine Chief Curator
Colonial Williamsburg Foundation"The MESDA Summer Institute was a transformative experience for me.  As a senior in college, I had harbored interests in both American material culture and Southern history, but I had no clear vision of how the two might interface.  The Summer Institute program and MESDA's peerless research facilities showed me with great clarity that objects made in the South were not merely antiquarian curiosities, but historical documents that spoke volumes about the culture and ethnicities of early southerners.  That experience has shaped the direction of my research and career for more than 30 years.  Every serious student of Southern history and culture should participate in the MESDA Summer Institute."
Maurie McInnis ('92)
Executive Vice President and Provost
The University of Texas at Austin"I attended the Summer Institute on the Low Country as a Ph.D. student at Yale University.  I was in the early stages of my dissertation research and the Summer Institute was critical to my path.  Not only did I have weeks to work in MESDA's unparalleled collections, but I also met a wide range of scholars and professionals—on the study trip and those who lectured to the class at the museum—who became key colleagues both in my research and later career."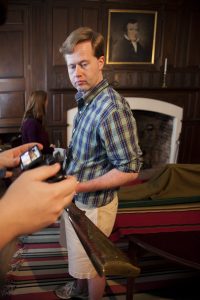 Grant Quertermous ('11, '14)
Curator
Tudor Place"The MESDA Summer Institute is an experience that I highly recommend for anyone who has an interest in material culture and decorative arts.  My goal in attending was to develop a more comprehensive knowledge of Southern furniture, especially the details that are clues about an object's origin.  My experience at the Summer Institute in 2011 was so valuable that I returned to focus on a different region of the South.  I continue to apply the perspectives and approaches that I gained from attending the Summer Institute in my professional career and in my personal research."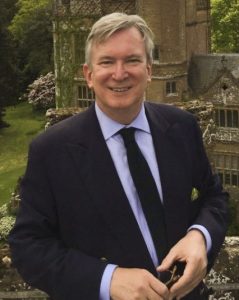 Tom Savage ('78)
Director of Museum Affairs
Winterthur Museum, Garden, and Library"I was lucky enough to attend the MESDA Summer Institute between junior and senior years at The College of William and Mary.  Already committed to pursuing a career in the decorative arts, the Summer Institute provided invaluable tutelage, context, and an important introduction to methodologies that remain the benchmark for Southern material culture studies.  The collegial and personal friendships made that summer have remained among my most cherished.  Little did I realize then that the field trip to Charleston would be a prelude to my first professional position and an 18-year career at Historic Charleston Foundation.  This total immersion course is a "must do," not only for students of the South, but all students of American decorative arts and material culture."