Virtual Visit: The McNamara Southern Masterworks Gallery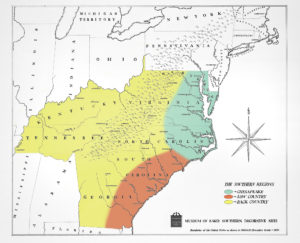 The Carolyn and Mike McNamara Gallery at the Museum of Early Southern Decorative Arts (MESDA) exhibits some of the furniture, ceramics, paintings, prints, metalwork, and textiles from the early American South.  From fine art to folk art, these objects tell the stories of the diverse craftsmen and consumers who called the South home for more than four centuries.
The early South is usually divided into three major cultural regions: the Chesapeake, the Lowcountry, and the Backcountry.  The rivers, roads, and natural resources of these regions defined their economic and settlement patterns.  Each was home to a unique blend of ethnicities and religions: Native Americans, British Anglicans and Quakers, Scotch-Irish Presbyterians, French Huguenots, Moravians, German Lutherans and Reformed, and free and enslaved peoples of African descent.  The dynamic interactions between and among these distinct groups flavored the decorative arts of the early South.