From Congregation Town to Cradle of Industry: A Century of North Carolina Moravian Landscapes, 1790-1890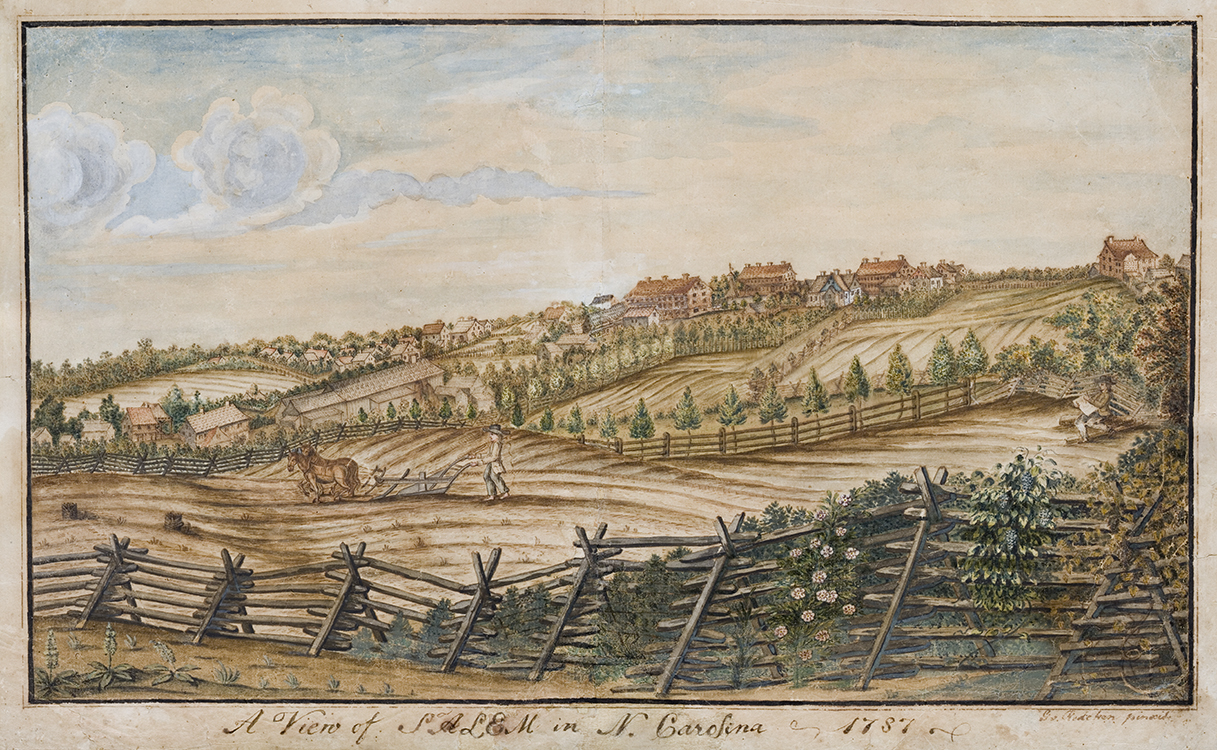 After traveling through woods for many days, the site of this little settlement of Moravians is highly curious and interesting…the first view of the town is romantic just as it breaks upon you through the woods; it is pleasantly seated on a rising ground and is surrounded by beautiful meadows, well-cultivated fields, and shady woods. The antique appearance of the houses built in the German style and the trees among which they are placed have a singular and pleasing effect; the whole resembles a beautiful village and forms a pastoral scene. — Journal of William Loughton Smith, 1791
Salem was the largest of North Carolina's Moravian communities and from the moment of arrival the earliest settlers documented their landscape with a variety of detailed maps, surveys, drawings, and paintings. Salem was founded in 1766 as a congregation town with the Church overseeing all activities—financial, social, and spiritual. The Church owned all land and leased it to individuals who owned only the improvements.
Salem was a bustling trade center with a mill, pottery, tannery, brewery, and store. But the earliest landscapes emphasize the centrality of the Church. They depict the town's conscious design around a central square, the heart of the community. The square was home to the Gemein Haus (and later Home Church), where religious services were held; the large communal dwellings for Single Brothers and Single Sisters; the schools for young boys and girls; and the store. Gardens and fields appear nestled in and around the most prominent buildings in early views, suggesting the town's growing success both agriculturally and commercially.
As the nineteenth century progressed, the residents lobbied for more personal control. In 1849, the Church agreed to sell land to create the neighboring town of Winston, and in 1856 it abandoned the lease-hold system in favor of private land ownership. Manufacturing enterprises grew, and the railroad's arrival in 1873 set the stage for tremendous growth in local industries. Salem—once closed to outsiders—became closely intertwined with the town of Winston. The textile and tobacco industries flourished, and by 1900 the twin cities of Winston and Salem had become the largest metropolitan area in North Carolina.
Artist depictions of the physical landscape reflect these cultural and economic developments. The 1891 Birds-Eye View of the Twin Cities Winston-Salem depicts a cradle of industry in the emerging New South.
This exhibition was on view at Old Salem Museums & Gardens from October 1, 2014 through December 31, 2015.