THINGS: A Global Conversation
October 21, 2020 - December 16, 2020
Online via Zoom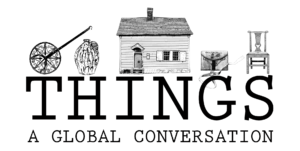 THINGS: A Global Conversation is an online program that features curators, makers, and other experts from around the world in conversation with people and objects from the Old Salem and MESDA collection. You're invited to join the conversation via Zoom. Our things may be old, but the lessons we can learn from them are as contemporary and relevant as ever!
THINGS: A Global Conversation About Sustainability
December 22, 2020
Listen with iTunes, Stitcher, or Spotify or watch on YouTube!
Tara Logue
Education Coordinator and Potter
Old Salem Museums & Gardens
Winston-Salem, North Carolina, United States of America

Jessica Steinhäuser
Ceramic Artist and Kachelöfen Innovator
Stone House Kachelöfen
Guelph, Ontario, Canada
What can ancient ceramic technology teach us about keeping our homes warm and our globe cool?  In 18th-century Salem, many people relied on ceramic stoves to efficiently heat their houses.  Today, ceramic artist and kachelöfen innovator Jessica Steinhäuser crafts new examples that efficiently, sustainably, and beautifully heat modern spaces.  Jessica and Tara will explore the connections between recently conserved and rebuilt ceramic stoves made in Salem, North Carolina more than 200 years ago and contemporary Kachelöfen from Jessica's studio in Canada.  Together, they will discuss why breathing new life into this old technology could be good for the environment and for the soul.
THINGS: A Global Conversation About Immigration
December 29, 2020
Listen with iTunes, Stitcher, or Spotify or watch on YouTube!
Daniel Ackermann
Interim Chief Curator
Old Salem Museums & Gardens
Winston-Salem, North Carolina, United States of America

Stephen Jackson
Curator of Decorative Arts
National Museum of Scotland
Edinburgh, Scotland, United Kingdom
If you had to leave your homeland, what would you bring with you?  What would you be able to bring?  What would you be allowed to bring?  And what would your choices say about your reasons for going, your hopes for the future, and your connection to those you left behind?  John Roy Mackay carried the chanter from his grandfather's set of bagpipes with him when he emigrated to Canada from Scotland in 1805.  Twenty-one year old Robert Walker, a Scottish cabinetmaker, chose to bring his copy of Thomas Sheraton's Cabinet-maker and Upholsterer's Drawing Book.  Join Daniel Ackermann and Stephen Jackson as they discuss immigration through the lens of two objects that made the journey from Scotland to North America.
THINGS: A Global Conversation About Globalization
January 5, 2021
Listen with iTunes, Stitcher, or Spotify or watch on YouTube!
Gary Albert
Director of MESDA Research & Adjunct Curator of Silver and Metals
Old Salem Museums & Gardens and the Museum of Early Southern Decorative Arts
Winston-Salem, North Carolina, United States of America

Dennis Carr
Chief Curator of American Art
The Huntington Library, Art Museum, and Botanical Gardens
San Marino, California, United States of America
In 1545, over half a century before Jamestown and Plymouth, the Spanish discovered vast silver deposits at Potosí in the Andes Mountains. Potosí's silver was mined by Indigenous peoples and African slaves and fueled trade, conflict, and cultural confluence at a truly global scale with tragic environmental and human costs. Silver flowed west to Europe where it financed the armies and navies of empire as well as into the shops of silversmiths were it was wrought into newly fashionable forms that were filled with tea, coffee, chocolate, and sugar from Asia, Africa, and the Americas. It has been estimated that silver from Potosí was used to make 90 percent of the world's silver objects during the eighteenth century, such as MESDA's coffeepot marked by Alexander Petrie. The silver from Potosí was also sent east to Asia in exchanged for silk, tea, spices, ceramics, and other exotic luxury goods. These Asian objects profoundly influenced the decorative vocabularies of Europe and the Americas in objects such as a Peruvian textile, likely woven in an Indigenous workshop, with motifs inspired by Chinese silks. Join Gary Albert and Dennis Carr for a conversation about trade and globalization 500-years in the making.
THINGS: A Global Conversation About Preservation, Trauma, and Memory
January 12, 2021
Frank Vagnone
President
Old Salem Museums & Gardens
Winston-Salem, North Carolina, United States of America

Nelly Abboud
MuseoLab Lebanon
Beirut, Lebanon
Why do we remember and preserve places filled with the memories of trauma?
Beirut's "Yellow House" sits in the center of the city. During the Lebanese Civil War, the building's location along the city's "green line", as well as its height and open architecture, provided a strategic vantage point for warring factions and their snipers. Badly damaged during the conflict and only recently stabilized and preserved, it evokes memories of the country's long and bloody civil war.
Like the Yellow House, Salem's Tavern also sat on a line of demarcation between Moravians and their non-Moravian visitors. Upstairs in the Tavern is a small room that was once home to those who were enslaved there. Unrestored–and until recently, inaccessible to the public–this space has been designated as a room of reflection dedicated to those who were enslaved in Salem.
Join Frank Vagnone and Nelly Abboud for a conversation about these two spaces that are linked by a common bond of memory and trauma. Memories and trauma that some would prefer to forget.
THINGS: A Global Conversation About Indigenous Cultures
January 19, 2021
Watson Harlan
Cherokee Historian and member of Old Salem's Cherokee Advisory Committee
Cherokee, North Carolina, Cherokee Nation

Dr. Julie Gough
Installation, sound, and video artist
Author
Curator of Indigenous Cultures
The Tasmanian Museum and Art Gallery
Hobart, Tasmania, Australia
In the United States the upcoming 400th anniversary of the "first" Thanksgiving is a time to consider the indigenous cultures whose lives were dramatically affected by colonization here and throughout the world. In the United States, efforts to erase indigenous cultures continued in government-run schools well into the 20th century. Elsewhere, first peoples were were driven to near-extinction while their material culture was appropriated into anthropological collections.
A basket made by a now-unknown woman ancestor and placed in a museum collection by a colonial British official. A brush pushed across a rough floor as punishment for speaking your native language. These things provide a window into the struggle between colonizers and the colonized. Join Dr. Julie Gough and Watson Harlan for a conversation about Things and the attempted erasure and resilience of indigenous cultures in the Southern Woodland, now the American South, and Tasmania.
THINGS: A Global Conversation About Neutrality
January 26, 2021
Catherine Carlisle
Director of MESDA Engagement
Old Salem Museums & Gardens
Winston-Salem, North Carolina, United States of America

David Pullins
Associate Curator, European Paintings
The Metropolitan Museum of Art
New York, New York, United States of America
Hidden messages scrawled on drawer sides. Secrets buried beneath layers of paint.
Threats of revolution. Promises of change.
In the eighteenth and nineteenth centuries, revolution and political upheaval created complex situations for craftspeople and consumers. Much like today, they had to navigate periods of extraordinary political tumult while meeting the expectations of those with whom they didn't always agree and sometimes even hiding their own allegiances.
On the eve of revolution, Jacques-Louis David completed an arresting portrait of Antoine Laurent and Marie Anne Lavoisier. Monsieur Lavoisier, known today as the founder of modern chemistry, is seen alongside his wife at his table with implements of scientific study. Why would a seemingly innocuous portrait of the couple be pulled from the 1789 Paris Salon for fear of inciting revolution? And how did David, one of the most highly regarded portraitists to the aristocracy, navigate the shifting political sands of this violent, fraught period in French history?
A decade later, John Shearer constructed an imposing and highly embellished desk and bookcase which stands today as the Scottish-turned-backcountry Virginian cabinetmaker's masterpiece. With so much exceptional detail, one could easily miss multiple hidden messages that reveal Shearer's proud Tory affiliation. How, then, would a British craftsman in a newly-independent America maintain his loyalty to the crown?
Join Catherine Carlisle and David Pullins for a conversation about the necessity and perils of maintaining neutrality.
NOTE: Registration closes at 11:59PM EST on December 1, 2020
THINGS: A Global Conversation About Mental Health
February 2, 2021
Johanna Brown
Curator of Moravian Decorative Arts & Director of Collections Management
Old Salem Museums & Gardens
Winston-Salem, North Carolina, United States of America

Rachel Mackay
Manager
Historic Royal Palaces at Kew
London, England, United Kingdom
What do a brass lancet and a tin bath tub have to do with mental health?
Fear, worry, and stress are timeless responses to uncertainty, isolation, and illness. One in five people have mental health conditions today and one in two people are at risk for developing them.  Experts warn that Covid-19 has exacerbated an already extensive mental health crisis in the world and urge professionals and policy makers to address the growing needs of patients as this pandemic lingers on.
How did doctors and "experts" treat patients with mental health issues generations ago?  How do the treatments endured by King George III in London in the eighteenth century and the therapies withstood by a young schoolteacher in Salem in the nineteenth century differ from the treatment options provided to patients today? Join Johanna Brown, curator of Moravian Decorative Arts at Old Salem Museums & Gardens and Rachel Mackay, manager at Kew Palace in London as we discuss mental health treatments used centuries ago.