Summer Scholar Series
July 5 - 30, 2020
Online

Beginning July 5, 2020
–
Have you…
wanted to learn more about decorative arts, history, and research methods, but didn't know where to start?
wanted to learn directly from past and present curators and legends in the field, like Frank Horton and John Bivins?
wanted to participate in the MESDA Summer Institute but couldn't take four weeks off?
–
JOIN US FOR THE MESDA SUMMER SCHOLAR SERIES
–
This digital program will not only introduce you to decorative arts foundations, but will take deep dives into the different regions of the south:
the Chesapeake, the Lowcountry, and the Backcountry.
Each of the four themed weeks of the program will include exclusive recorded lectures by legendary experts coupled with live presentations and discussions.   Present-day curators and scholars will provide not only a unique view of the history of decorative arts in the south, but also an understanding of trends in scholarship and research.
For full participation and to ensure the best experience, use of an internet-connect device is required.  Live lectures will be about 45 to 60 minutes in length, including a Q&A session that enables you to interact with the presenter or others in the audience. A schedule for the week, including recommended readings and details for live discussions, will be sent ahead of time to the email address provided at registration.  These lectures will be broadcast using the Crowdcast platform.
---
REGISTRATION
–
–
FULL PROGRAM

–

—

INDIVIDUAL WEEK

–

Registration includes all four weeks of the program, including all suggested readings, vintage lectures, live lectures, and discussions.
Registration includes content for one selected themed week, including two live lectures and discussion, readings, and that week's vintage lecture.  You may register for one or more individual weeks.

–

$200.00


$175.00 for members of the Frank L. Horton Society,
Flora Ann Bynum Society, or Frederic William Marshall Society

$50.00

–

Register for the Full Program


Sold out

Register for Week 1: Introduction to Southern Decorative Arts
Sold out


–


Register for Week 2: The Chesapeake


Sold out




–




Register for Week 3

: The Lowcountry


Sold out




–


Register for Week 4: The Backcountry


Sold out



---
SCHEDULE
The weekly program schedule will include several components:
Prior to the start of the program, you will receive suggested readings, the week's schedule, and a link to a "vintage" lecture which you can watch at your leisure.
On Sunday evening at 7:30pm ET, we will hold a live lecture using the Crowdcast platform.  During this lecture, you will be able to interact with other participants and ask questions of the speaker.  The entire experience will last 45 minutes-1 hour.
On Monday you will receive a link to a recording of the previous evening's lecture.
On Thursday evening at 7:30pm ET, we will hold another live lecture.
On Friday you will receive a link a recording of the previous evening's lecture.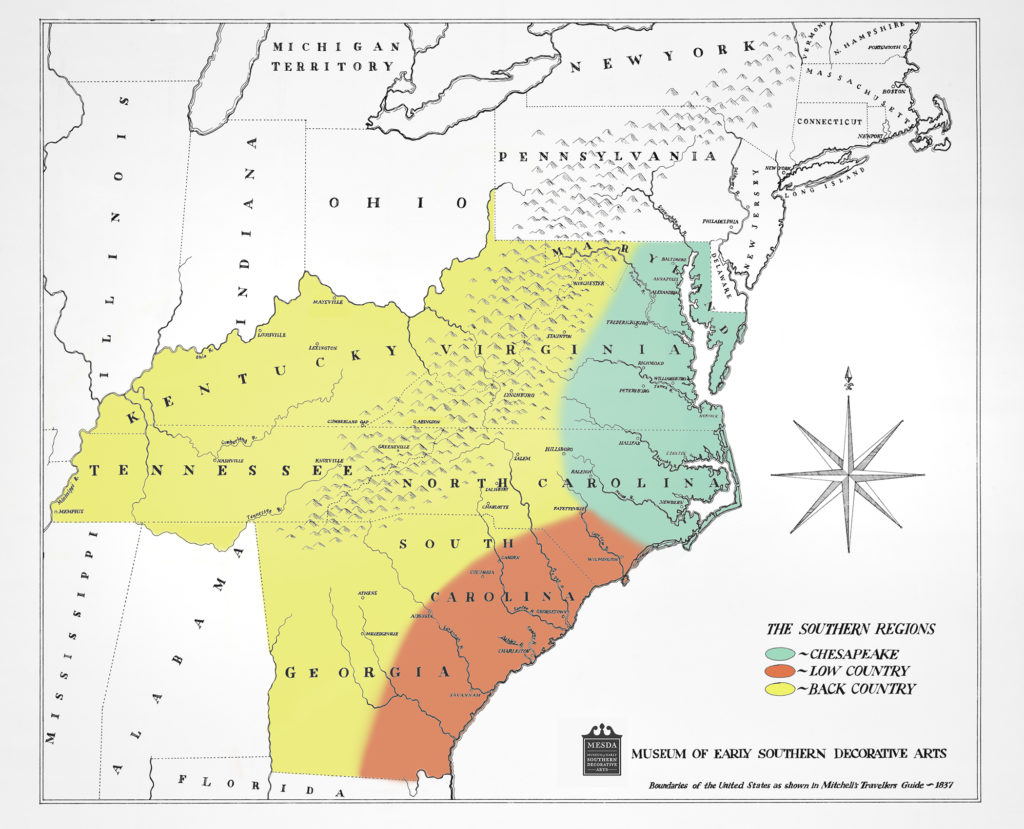 Week One: Introduction to Southern Decorative Arts
July 5 – 9
Live discussions and lectures include:
  •Learning about the Decorative Arts and the "MESDA Method"
  •Introduction to Different Media, including furniture, ceramics, paintings, textiles, and metals
Week Two: The Chesapeake
July 12 – 16
Live discussions and lectures include:
—•Chesapeake Textiles Stories
  •The Warner Swords of Baltimore
Week Three: The Lowcountry
July 19 – 23
Live discussions and lectures include:
  •The Early Jewish Lowcountry
  •Charleston's Colonial Artists
Week Four: The Backcountry
July 26 – 30
Live discussions and lectures include:
  •Ceramics in North Carolina
  •Kentucky and the West
---
For more information, please contact Catherine Carlisle, Director of MESDA Engagement:
ccarlisle@oldsalem.org